With over 14 million cases globally, COVID-19 has caused significant disruption, including delays to the physical rollouts and maintenance of IoT devices and networks owing to travel restrictions and lockdown measures in various countries.
The pandemic initially slowed the manufacturing, distribution and implementation of IoT projects, but also showed the need for the technology. IoT device adoption in supply chain operations will play a role in mitigating future disruption caused by the virus, as well as making processes more efficient to enable IoT rollouts to get back on track.
The Required Evolution for IoT Rollouts
Industrial Internet of Things (IIoT), networks are often expansive and have been designed to scale up in line with growing operations. However, during the pandemic, opportunities for physical site visits to provision a device have been limited, and so further deployments have been reduced. These IoT networks often consist of a large number of small form factor devices such as sensors and processors that require engineers to install and connect to each IoT device.
Figure 1: Total Number of Cellular IoT Connections with Embedded SIMs (m) Split by Healthcare 2020 & 2024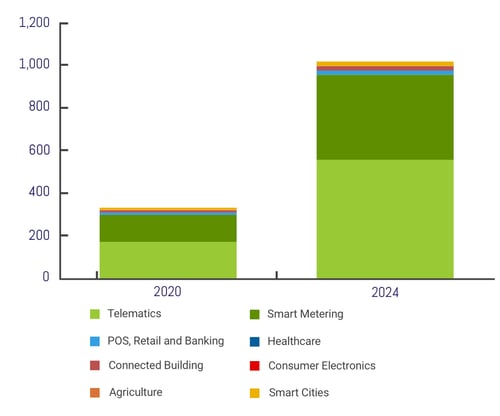 As seen in Figure 1, Juniper Research believes that the total number of cellular IoT devices will reach 1 billion by 2024; rising from over 320 million in 2020. However, the embedded SIM (eSIM) has created the need for new frameworks for cellular IoT rollouts; these frameworks need to account for the varying requirements of service providers in the industrial, enterprise and consumer IoT markets.
With many companies tightening their belts as the economic impact of the pandemic hits, cellular IIoT can help bring cost savings. Devices in the IIoT often only require limited connectivity, such as Low Power Wide Area (LPWA) connectivity that leverages low duty cycles to connect to the IoT network. This low cost per connection is making these cellular connections increasingly popular, although as rollout procedures remain the same these have slowed in recent months.
We've also seen hardware vendors increasingly looking to reduce the size of their devices. This trend is most notable in LPWA equipment as they have fewer hardware requirements. However, the small form factor often means that the implementation frequently requires specialist tools as any in-built user interface is not included on the device.
Telna offers comprehensive solutions that can overcome these hurdles: embedded modules and their management platforms are creating new frameworks that enable smoother deployment of cellular IoT devices. These tools also allow remote management of the deployment of connections. For traditional SIMs, much of this implementation process is still done at the physical location at which the device will be located during its operational lifetime. Remote SIM Provisioning (RSP), enabled by embedded modules, means that a large degree of this process can be done before any implementation at a central location where multiple devices can be configured at once. Once the unit is in the correct location, RSP enables it to be connected to cellular networks with minimal physical interaction. This greatly reduces the demand for specialist engineers that need to implement a multitude of devices spread out across a large geographical area; a process that would have been made increasingly difficult during the early stages of the pandemic.
Embedded modules have been slowly gaining traction over previous years as device vendors and operators have come to adopt the standards for embedded modules. Telna continues to create products and solutions that enable an ecosystem in which many processes can be streamlined for the end-user. However, this can create a learning curve as they migrate away from the processes associated with traditional SIMs.
So the question is: to what extent has this pandemic affected the processes of rolling out IoT devices this year? This learning curve facing the market has evidently been accelerated by the impact of COVID-19. The heightened emphasis on the benefits of IoT connectivity has essentially forced IoT service users to adapt to these new frameworks because they were unable to use the existing processes that they were accustomed to.
How Cellular IoT Rollouts will Look After the COVID-19 Pandemic
It is important to note that cellular IoT rollouts have continued throughout the pandemic, but at a slower rate as IoT service users became increasingly hesitant about plans. As a result, the aforementioned 'learning curve' with remote provisioning of IoT devices has needed to accelerate as IoT service users switch to use remote services for IoT rollouts.
I view this as an ongoing opportunity for eSIMs in the industrial and enterprise space, with IoT service users no longer locked into long-term connectivity contracts with a sole operator. As the prevalence of embedded modules increases, so does the fairness of pricing and the flexibility available to these end-users.
There are some steps to fully exploiting the benefits of the embedded module:
Migrating the remote provisioning process to a centralized online platform that can be accessed by multiple users. This is essential as these networks can comprise thousands of connected devices, and will only continue to grow. Not only is this management process needed for adding new connections to the network, but it is just as important to the existing connections that need to be managed throughout their operational lifetime. Remote provisioning enables standardized updates across the whole network and for individualized management of portions of the network, based on a user's needs.
Verifying and authenticating connections must be seamless and integrated into remote management services. Early IoT services used proprietary authentication services which developed into a market that had a high degree of fragmentation when it came to large scale deployments. We have seen numerous scenarios unfold in which devices would not be able to authenticate properly and thus provided security risks to the end-user. I believe that any future service must be interoperable with the outlines of the standard for eUICCs, and can then be deployed as part of any cellular IoT network.
Utilizing devices based on cellular IoT standards is critical. As the number and scale of IoT networks increases, the efficiency of the provisioning process must increase to handle the future acceleration of the growth of IoT rollouts. Whilst there is no one-size-fits-all process to RSP and cellular IoT deployments, offering services that can cater to the many different use cases in the IoT market means that products and devices need to share a common core of protocols in order to remain interoperable and manageable.
The importance of IoT ecosystems at all levels, including the device, network and applications, cannot be understated. As the benefits of leveraging cellular networks for IoT purposes become more well-known, we will see an increasing amount of previously unconnected devices becoming part of IoT networks. The need for secure and reliable connections will continue to grow over the next five years, as the demand for real-time monitoring and management of operations increases. In turn, this is going to increase demand for increasingly comprehensive solutions that can manage the rollouts of these devices across increasingly complex IoT networks.
How Could IoT Deployments Assist in Mitigating the Impacts of the Pandemic?
Telna's eSIM provides flexibility and scalability for IoT global deployments. The eSIMs are programmable over-the-air, which allows you to support current demands by seamlessly transitioning between various network subscriptions in real-time.
Telna offers complete connectivity with 2G, 3G, 4G LTE, and the largest LTE-M coverage. This flexible solution provides ease of use so that you can focus on expanding your business. Telna also provides a large range of connectivity options so that, regardless of the country of deployment, multinational SIMs or local profiles are available to assist in the launch of IoT networks. The solution operates in over 200 countries and allows for the switching of the home carrier or other networks where possible.
The ongoing pandemic is likely to provide several 'learning opportunities' for the cellular IoT market. Most notably, there is a need for more efficient cellular IoT deployments, to both enable easy remote management, and to reduce operational costs in an uncertain economic climate. However, the ecosystem contains several stakeholders who all need to continue to collaborate on these processes to maximize their potential.
The pandemic has highlighted the benefits of cellular IoT technologies, particularly where remote environments are concerned. Educating the stakeholders on these benefits and the return on investment that can be accomplished will lead to accelerated adoption in sectors including healthcare, smart cities and agriculture.
Healthcare is the most notable sector that could have benefited from larger IoT presence during the early stages of the pandemic, particularly the ability to monitor citizens and those who had shown early symptoms. The real benefit of taking this approach is the availability of data and the time in which it takes for this data to be delivered. A key issue facing IoT adoption in the healthcare industry is the disparate systems in use in multiple countries, and in the worst cases, within the same country itself. IoT services within the industry have the potential to unify these systems to a certain degree. This global pandemic should be viewed as an opportunity to assess the future of healthcare industries; a future that needs to be centred on the potential advantages that IoT technologies can bring.
Operators Must Evolve Their Roles in Cellular IoT Deployments
Operators are increasingly moving away from a Capital Expenditure (CAPEX) model towards an Operational Expenditure (OPEX) model. This is most apparent in the deployment and expansion of 5G networks, which has a high degree of reliance on software-defined network components compared to previous cellular technologies. Despite the severe global disruption caused by COVID-19 in the first six months, mobile network operators have pressed on with their 5G networks. By 2025, Juniper Research anticipates that 5% of 5G connections will be attributable to IoT, representing a revenue opportunity of $8 billion in that year.
Operators have already identified growth in cellular IoT demand, with Tier 1 operators setting up programs to encourage the development of eSIMs in IoT devices. This collaboration between operators and other stakeholders has been key to increasing the impact of eSIMs on IoT markets.
Many recent operator IoT efforts have focused on consumer devices. The IIoT market provides different challenges, market drivers and opportunities than the consumer aspect of the IoT. As a result, we've seen different sets of hardware vendors, end-users and use cases emerging. However, the operators remain the constant provider of the underlying cellular connectivity that all devices will operate with.
Reducing the Time of IoT Rollouts
Telna provides a fully managed cellular IoT platform that reduces the time-to-market, and provides comprehensive solutions for IoT players, operators and eSIM platforms. Cronus, provides collaborative infrastructure alongside a comprehensive suite of APIs and signalling-based integrations. The self-management platform provides services including Over the Air (OTA) provisioning, support for multiple form factors and the proprietary Telna SIM operating system.
Looking to the Future
It has been said that one of the lasting impacts of the pandemic has been to accelerate digitization. That necessity has forced innovation in unexpected spaces in the Internet of Things, and also shows how cellular IoT in particular can really help lessen the impact of movement restrictions. I fully expect this to accelerate further as Telna's latest initiatives reduce our clients' rollout times.
Please get in touch to learn more about how Telna can help enhance your IoT projects. I look forward to seeing what we can create together.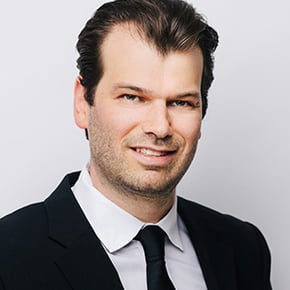 Gregory Gundelfinger
Gregory Gundelfinger is the CEO of Telna. A serial entrepreneur from South Africa and a tech-lover at heart, he led the acquisition of Telna in 2015 and developed himself into a thought leader for telecommunications.