The Internet of Things is a large umbrella term that is ever-present in our lives - but what exactly is IoT? Simply put, the Internet of Things refers to a network of objects that are able to collect and exchange data through the internet. This article is a simplistic walkthrough of what IoT means, the variations of it, and why businesses are adopting use of it at an amplified pace.
What is IoT?
The Internet of Things is quite simply "things" being connected to the internet and each other. What "things," you ask? Devices can be sorted into three categories in IoT:
Collectors - Better known as sensors, these devices receive and share data, but do not act on it themselves. When you press your garage door opener, the button collects the information that you want the door to open.
Receivers - These devices receive data from collectors and act on it.
When your collector (button) tells your garage door that you want it to open, it reacts to the information and opens.
Multitaskers - These devices collect, receive and respond to information.
A motion sensor garage door collects the information that you are ready to park your car, and reacts by opening itself.
Why do we need IoT? On the surface, not having an Internet of Things means that we would have to complete all tasks manually. Without it, your key fob wouldn't be able to send information to your car to lock and unlock, your FitBit wouldn't tell your phone how many steps you took, and your Alexa wouldn't be able to turn your lights on. Beyond the consumer world, IoT provides insight and better control measures to allow businesses to remain connected both internally and externally, while efficiently completing higher-level work with less personnel.
Network Terminology
Before we get into the nitty gritty of IoT, how it works, and how it supports businesses, let's get familiar with the terminology.
M2M - Machine to Machine communication takes place when networked devices exchange information and perform actions without human direction. For example, when your smartwatch shares sleep data with your phone.
WPAN/PAN - (Wireless) Personal Area Network. A network used for data sharing among devices, typically within the range of about 10 metres.
LAN - Local Area Network. A network shared by a group of computers and devices among a common communications line or link in a smaller geographical area (such as a single office building).
PoP - Point of Presence. The local access point for an internet service provider (ISP), where networks and devices share a connection or an access point to the internet. Points of presence are physical locations that are commonly located within data centres.
WAN - Wide Area Network. A WAN connects several LANs and covers large areas.
LPWAN - Low-Power Wide-Area Network. These can transfer smaller amounts of data over much larger distances.
SD-WAN - Software-Defined Wide-Area Networking. These wide area networks use software which decreases the amount of network connections at sites.
Permanent Roaming - Is used when standard roaming agreements are used to support M2M devices outside of a network's home country.
Affiliate Roaming - Ensures long term connectivity for IoT projects by allowing access to other group properties with a group profile.
Local Profiles - For countries where IoT roaming is prohibited by regulation, IoT companies can offer profiles that are specific to a single location.
Common IoT Uses
The Internet of Things is very versatile and takes on many different roles and forms across industries. Below is a non-exhaustive list of some common uses.
Transportation and Supply Chain

- When everything is connected, commuters and companies on the road can make informed decisions about travel and routes based on traffic flows. Additionally, the ability to track goods as they move along the supply chain and are dispersed accordingly can help companies to determine the best practices for productivity, safety and efficiency.
Healthcare - IoT helps healthcare professionals to be more observant of patient behaviours and changes in their health. When IoT devices collect and store data, researchers can analyze the information to get a better understanding of health trends, and physicians can determine the best treatment solutions for patients.

Broadcasting

- Camera crews, broadcasters, and reporters require high-speed connectivity across the globe in order to effectively report on world events. By partnering with a global IoT service provider, broadcasters can access secure internet that will ensure that their stories will always be shared in a timely manner with lower latency.

Maritime

- Ships require high-bandwidth connectivity for the optimization of routes, monitoring of equipment, tracking of assets, and providing internet access to passengers.
Retail and consumers - With IoT, retailers can track assets, manage inventory, receive real-time analytics, and optimize the overall retail experience. Cellular IoT also offers reliable and cost-effective connectivity for consumer products such as smartphones, wearables, security systems, thermostats, lighting, and more.
Other industries that can benefit from the use of IoT include (but are not limited to): Agriculture, disaster monitoring, automobile, hospitality, finance, and many more. In fact, Covid-19 has increased the already present use case for the implementation of IoT into all sectors as we move towards a more hands-free, digitally connected society.


Cellular Vs Satellite IoT
Now that we understand that the Internet of Things is how devices communicate with one another without human interference, it's time to look at the two different ways that devices can connect: cellular IoT and satellite IoT.
Cellular IoT allows devices to transmit data via land-based towers, or cell towers. Phone providers build towers across countries so that their customers can always connect to the nearest one and receive the fastest connection possible. Rather than constantly creating new and private networks for IoT devices to operate on, cellular IoT can piggyback on already existing mobile networks. Its ability to consistently and reliably transfer large amounts of data, cellular IoT can provide a powerful and secure infrastructure for IoT projects of all sizes and demands.
Satellite IoT transmits signals and responses via satellites that orbit the planet. When a device sends a signal, it travels to the nearest satellite and returns to the nearest gateway, which then transmits the signal to the receiver device. Unlike cellular, satellite connections don't rely on proximity to a tower, making it ideal for underdeveloped locations that lack towers, or areas that can't have towers, such as the ocean. However, as a result of traveling to and from satellites from great distances, satellite IoT requires larger equipment and high power usage.
The growth of the IoT market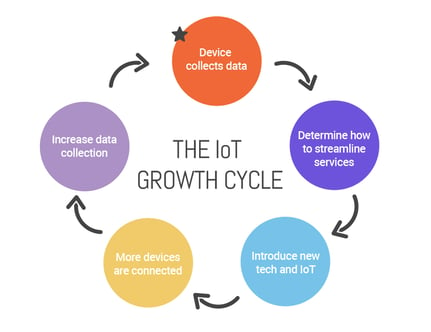 IoT is transforming the industrial and consumer landscape across all industries, sectors and uses. The extensive use of connectivity from cities to farms and everything in between creates a massive opportunity for service providers and technology companies that can offer products or services and contribute to entire ecosystems. This way, they can streamline operations, drive new revenues, and collect important data from connected devices for analytical use that will support the future streamlining of services.
By collecting data in an ongoing process and adapting operations to benefit as much as possible from connectivity, the Internet of Things provides the ability to continuously adapt to new environments, demands and processes. The more connected an organization is, the better their ability is to consistently analyze and improve operations.
Industry research indicates that cellular IoT connections will grow dramatically over the next decade. According to a recent study by Kaleido Intelligence, cellular IoT was forecasted to reach 3.7 billion connections globally by 2025, a compound annual growth rate (CAGR) of over 30%. However, with the Covid-19 pandemic of 2020, this figure is now projected to triple to over 11 billion connections as companies recognize that efficient operations require guaranteed and secure coverage that offers full and simplistic control, regardless of location.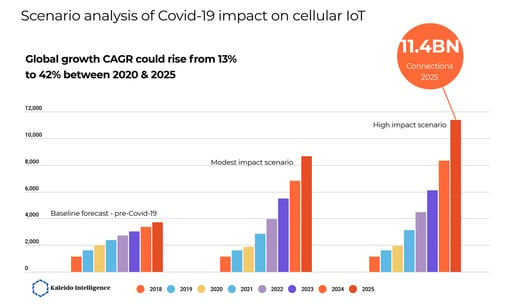 The simplest route to market is accessed through minimizing the amount of disparate solutions required to effectively connect devices in the field. Simplifying this process reduces testing time and offers an uncomplicated way to manage costs. Cellular connectivity can be leveraged in three different ways for various types of deployment, with low cost and complexity in mind:

Traditional Roaming SIMs - for low complexity deployments. Relatively low roaming data consumption costs can be achieved through broad roaming agreements with MNOs or specialist MVNO partners. This eliminates costs associated with procuring devices from one country and later swapping out SIM cards for target countries. This type of deployment is ideally suited to initiatives where the SIM cards' country of operation is known.
Programmable SIMs - flexible and future-proof. This solution offers a simple route to market with coverage on a near-global scale. Connectivity service providers can remotely provision new SIM profiles OTA (over-the-air) through a single SIM, meaning that varying needs can be addressed according to customer requirements, including offering local connectivity.
eSIM/iSIM

- for secure and remote management. eiUICCs are similar to Multi-IMSIs, with the key difference of standardized remote provisioning architecture, providing higher security. This level of security means that as value-added services develop, the platform can be used to deliver mechanisms for applications, firmware, or credentials, offering a broader suite of possibilities compared to Multi-IMSI.
"Businesses with limited access to critical services are beginning to consider remote, cellular access for the majority of their operations. It will soon become widespread across all industries to require cellular connectivity for the reliable and secure collection of data to ensure our safety."
- CEO Gregory Gundelfinger
Why your business needs IoT
The purpose of IoT for business is much different than that of consumers. With less focus on immediate convenience (although that does play a factor), establishing connectivity between all devices and operations within a company offers long-term benefits and the production and distribution of important consumer and use information.

Below are four important reasons for enterprises to incorporate IoT into their operations:
Increase efficiency by tracking and reacting to demand, consumption and production. Machine reactions to sensor data can increase efficiency as large tasks can be completed much quicker with immediate reactions from software and appliances.
Large-scale management. Increase the scale of your business with minimal increase to operations and oversight roles as the technology monitors and assesses itself.
Streamline the gathering and exchanging of information as machines communicate amongst themselves. They can develop algorithms to analyze data and identify consumer patterns that help analysts to better interpret this information as well as easily identify and create new consumer demands.
Support remote work. As the world restructures its idea of a functional working office to respond to Covid-19 safety measures, more organizations are realizing the benefits and difficulties of working from home. By offering secure connectivity and communication among devices across a vast area, organizations can begin to create a new, more streamlined structure of remote work.
The Internet of Things is everywhere. As the ever-growing network of objects across the globe collect and exchange data over the internet, our world becomes more efficient and connected.
Now that you understand the basic terminology, uses and variances of IoT, only one question remains. Are you ready to join the IoT revolution? Sign up here to learn more, or request a free demo.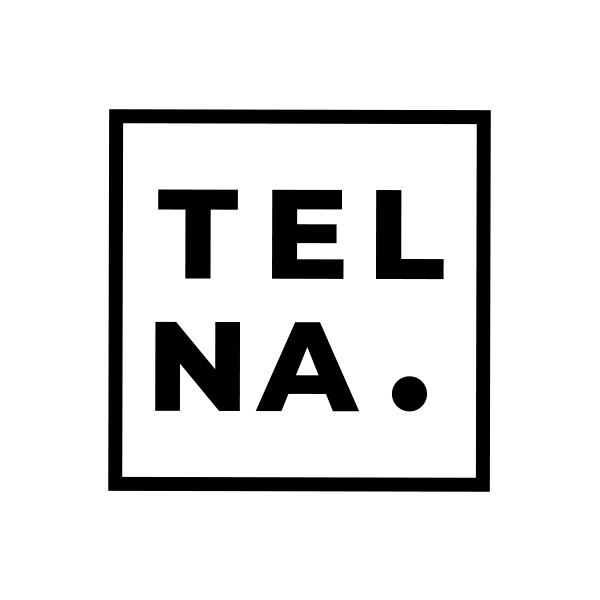 Telna
Telna provides Mobile Network Operators (MNOs), Communication Service Providers (CSPs), and Original Equipment Manufacturers (OEMs) with a fully managed global cellular connectivity platform. Telna has the largest 2G – 5G, LTE-M to over 800 radio network operators – 300 in direct partnerships – in 200 countries. Its global multi-network connectivity platform enables simplified integration to any platform and enables local break-out with localization that utilizes cloud infrastructure. With one integration to Telna's platform, we have enabled millions of devices with multi-network connectivity, enabling innovative solutions in the cloud.