Cloud Network
Fully Managed Connectivity for CSPs and OEMs
Managed Cellular Network Infrastructure for Global IoT Deployments
Deliver high-quality services faster and more efficiently. Find new revenue streams with local, global and secure IoT deployments and pave the way for 5G.
Our end-to-end connectivity solutions make the IoT deployment process simple and efficient. We enable our partners to support IoT deployments on a global scale.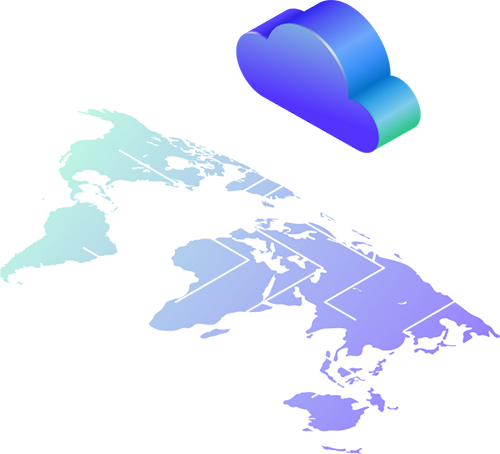 Global Network, One Single Agreement

Reach the market faster with one global operator.
High-bandwidth mobile multi-network connectivity across the globe
Virtualized infrastructure with geo-located Points of Presence (POP)
Lower latency and optimized data speeds
Cloud-based management and extensive APIs
Global SIM cards with 4G / 3G coverage in 200+ countries
Redundancy and reliability
Optimize Network Selection with Ease
Customers can define network selection on attributes that are relevant to their applications and devices. Network coverage, network quality, cost per KB, usage limits and more.
Global IP Network
Our cloud-based platform delivers a global IP network with scalable bandwidth that ensures connectivity worldwide.
You can easily manage IoT devices globally with a low to zero upfront investment.
Seamless Integration
Integrate existing infrastructure to support all your IoT use-cases with our network as a service (NaaS) model. One Seamless integration with no disruption for users ensures security and reliability.
Simplified IoT Management
Securely and remotely provision your SIMs over the air to leverage local network profiles. Manage your connectivity and track all of your IoT devices in one convenient location.
Simplify Global IoT with a Single eSIM / eUICC SKU
scalable opportunities to optimize IoT businesses and serve your enterprise customers across all major industry applications.
Broadcasting • Maritime • Transportation • Consumer Electronics • Supply Chain • Energy • Health Care •Retail
Our solutions provide device-integrated global network connectivity and new revenue streams for Original Equipment Manufacturers (OEMs) and Module Vendors. Providing unparalleled flexibility and control through cloud-based management tools, centralized management of all devices with access to multiple rate sheets, real-time billing, and remote provisioning.


Global Connectivity on a Single Pane of Glass
Optimize value-added services
Telna's Cloud network platform with API orchestration enables global cellular end-to-end connectivity.
Reach the market faster and find new revenue streams with our fully-managed cellular infrastructure.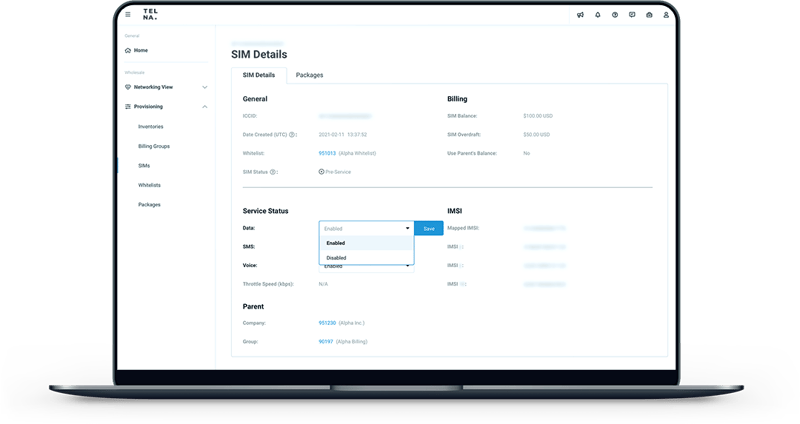 Self management
Delivery Mechanisms
Seamless Integration
Broad Coverage
TOUCH
Self Management
• Control your devices in real-time with API front-end
connectivity management
• Create customized packages, rate sheets and whitelists
• Online Charging System (OCS) and billing service
• Set activation rules and throttling policies
• Automate private network routing
• Monitor network activities, services and IMSI profiles.
TOUCH
Delivery Mechanisms
• Manage your solutions with flexible delivery mechanisms
• Remote over-the-air (OTA) provisioning
• Support for different form factors 2/3/4FF
• eSIM solutions and eSIM profiles
• Proprietary Telna SIM Operating System & iUICC
• IMSI profiles and OTA SIM management
Our Team is Ready to Assist You