Covid-19 has clearly marked an inflection point for cellular IoT. As identified in our recent white paper, the complexity of cellular IoT has been greatly reduced by the GSMA's standardization of the eSIM.
The disruption to businesses across all industries as a result of Covid-19 will undoubtedly require the use of IoT in order to enable business continuity, remote monitoring and automation. Companies will need to adapt business models to remain operational in our rapidly changing society, this means adopting technology that supports automation and reliable connectivity. Business continuity now requires security, provisioning, throughput and latency - key features of cellular IoT in particular. By using homogenous solutions, testing time can be reduced and cost management becomes simpler. Cellular connectivity can be leveraged for various types of deployment, with low cost and complexity in mind.
The module landscape has also become far more competitive both in terms of pricing and technology, thereby making cellular IoT deployments across multiple regions simpler and more affordable. For Mobile Network Operators, System Integrators, Enterprises and OEMs, this means that the hardware required for cellular IoT is now able to support global deployments all on a single SKU.
Yet the question remains, how do you manage all these devices globally?
This is the new challenge that needs to be addressed by the industry. As all these devices are deployed globally, how do you streamline the management and seamlessly transition between eUICC profiles?
Currently, cellular IoT roaming is where the bulk of M2M traffic sits. There was a time when IoT roaming was "grey" traffic, but this has now changed and IoT traffic has become one of the most important points of negotiations between Mobile Network Operators. This roaming solution has been embraced by the industry as it enables a single pane of glass billing for the customer, as well as enables the operator to retain the customer, even as devices go outside of their network. However, you cannot rely on roaming for long term IoT deployments as these agreements are negotiated annually and can be cancelled at any time. There could also be contractual obligations between operators that limit the amount of IoT traffic that can be sent transparently. In addition, there are countries that forbid IoT roaming and make localization or the use of local profiles mandatory.
Telna has created a solution that enables Mobile Network Operators to retain their customers and create the same experiences as cellular IoT roaming, but with one big difference; it localizes the eUICC to enable transparent long term sustainable IoT connectivity. We do this by utilizing affiliate roaming and local profiles.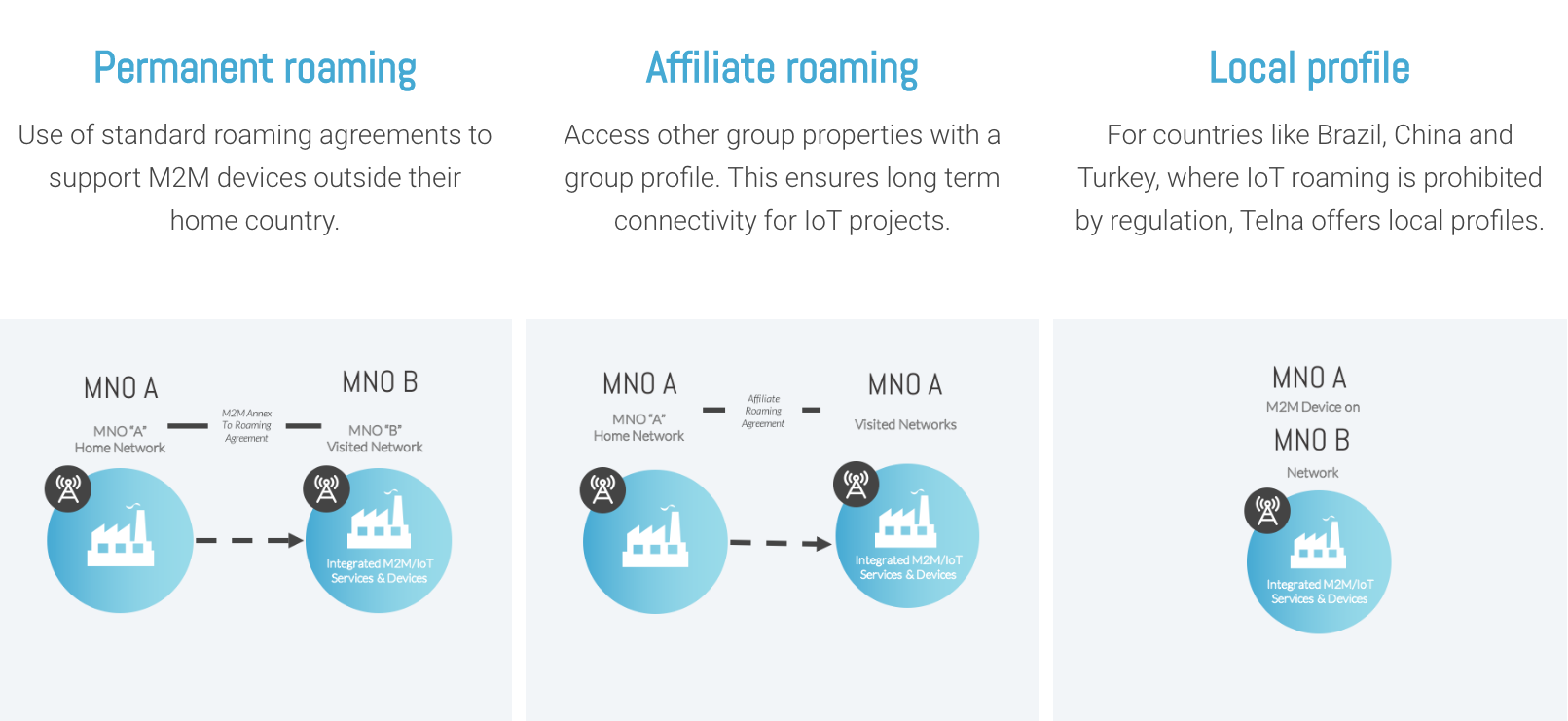 Using exchange hubs to reduce complexity
When Mobile Network Operators connect to Telna's Connectivity Hub, we enable the exchange of IMSIs to comply with your roaming agreements as well as local regulation. Our technology allows for mediation between Mobile Network Operators at the signalling level and acts as a clearinghouse for IMSIs so that Hub members can have direct commercial agreements with one another. This enables localization of eUICC profiles, without having to do heavy API integrations with Mobile Network Operators. There are multiple IoT platforms that allow the trading of profiles within them. What Telna does differently is providing interoperability between these platforms, without changing the core infrastructure or billing systems.
For example, if you are using one platform and you need to access a Mobile Network Operator that is using another, Telna mediates those platforms at the signalling layer to harmonize the management without any changes to your core network or IoT platform.
By connecting to Telna's Hub, MNOs unlock the ability to simplify business operations for their customers through centralized management and enable their roaming partners to send IoT traffic transparently. With complete control over devices, profiles and configurations, MNOs can support global IoT deployments seamless through a "single pane of glass"


"The coin phrase for 2021 will be single pane of glass management."
Instant IoT Infrastructure
In addition to providing Mobile Network Operators with the ability to provide sustainable global connectivity for eUICC, Telna also provides a fully managed cellular IoT platform that is opex-based and reduces your time to market. Cronus provides a connected self-management platform for everyone at any stage. It is designed to allow the integration of existing infrastructure to support all IoT use-cases. Its API front-end connectivity management allows businesses to oversee and control their networks and devices in real-time, overview and manage all allocated SIMs, IMSIs and inventory details. Customers have the opportunity to create new revenue streams and provide IoT services and eSIM for global deployments.

Expectations for Cellular IoT in the near future
The priorities of businesses will shift as it becomes a universal necessity to ensure secure IoT connectivity for all operations and systems. The infrastructure that enables this has been recently adopted around the world, allowing us to stay more connected than ever imagined possible during a pandemic, but our work here isn't done.
The need for secure, reliable and capable connectivity is at an all time high, and this will create a surge in solutions and infrastructure that allows our society to become more cohesive and reliable than ever. The forecast? A surge in cellular IoT infrastructure and adoption of platforms such as Cronus, with a spike in innovation to meet the world's continuously changing landscape.
Ready to learn more?
We were recently joined by thought leaders and industry experts to cover the impact of Covid-19 on future cellular IoT deployments. Fill your details to watch the recording.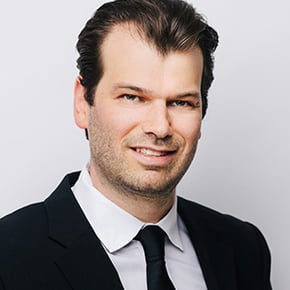 Gregory Gundelfinger
Gregory Gundelfinger is the CEO of Telna. A serial entrepreneur from South Africa and a tech-lover at heart, he led the acquisition of Telna in 2015 and developed himself into a thought leader for telecommunications.