This article highlights the impact Covid-19 will have on business operations globally. Here we will outline how connectivity solutions are paramount to enabling business continuity and can address new concerns and business functions to enable industry moving forwards. The article demonstrates:
How IoT can be deployed to mitigate the impact of global disruption and ensure business continuity
The important role of cellular connectivity in meeting the demands of IoT-preparedness deployments
A scenario-based projection on the number of cellular IoT connections to 2025, taking into account either modest or high impact effects from Covid-19
COVID-19 Means a Fundamental Change in Business
The impact of the novel Coronavirus has been profound. All over the world, travel restrictions are in place, businesses have either moved to work-from-home environments or are operating under far from business-as-usual circumstances in physical locations, while the world's fixed broadband infrastructure quakes under due to a massive increase in videoconferencing and video content streaming.
With the reported number of COVID-19 infections well over 1 million, and the actual number likely to be far higher, the combination of government-imposed restrictions and workforce sickness has highlighted a severe challenge for businesses moving forward: how do you maintain business continuity, or mitigate the impact of far-reaching, ongoing incident such as a pandemic? The ability, or inability to achieve this may mean the difference between a major survival mechanism, or severe financial distress and job losses. It is within this context that IoT, and cellular IoT in particular, stands to benefit.
Gregory Gundelfinger, CEO of Telna has identified that "many businesses have limited access to critical services and are beginning to consider remote, cellular access for the majority of their operations. It will soon become widespread across all industries to require cellular connectivity for the reliable and secure collection of data to ensure our safety."
Before the crisis hit, Kaleido Intelligence was forecasting 3.7 billion cellular IoT connections globally in 2025. For the reasons outlined below, this figure could triple to 11.4 billion connections.
The Road to Business Continuity
For many, the IoT has thus far been a disappointment, some way from the infamous 2010 prediction of 50 billion connected devices by 2020. Indeed, at the end of 2019, there were 1.6 billion cellular IoT connections. Module costs, complexity and uncertainty over the benefits realized by cellular IoT deployment have served to hamper growth. Before coronavirus, things were looking up: module costs have been falling, while many cellular IoT specialists have worked to reduce deployment complexity. Paradoxically, the COVID-19 crisis may create the business case that IoT has been waiting for.
Work-From-Home to Accelerate SD-WAN
The massive increase in WFH (work-from-home) activity has drawn a significant number of workers away from leased-line, business-grade connections into the 'best efforts' broadband world, where high contention ratios, network congestion and even poor last-mile speeds may leave potential productivity vulnerable. It is almost certain that in a post-lockdown world, evidenced by the global slowdown in office real estate activity, WFH will continue as a major factor. As such, businesses will seek cellular SD-WAN solutions as a means of offloading connectivity away from consumer fixed-line infrastructure. SD-WAN has long been touted as a business failover solution; the WFH environment will serve to accelerate it.
Investment in Remote Monitoring and Security to Rise
With many physical spaces now completely or partially abandoned, devices within, energy consumption, building condition and security cannot be effectively monitored. Given that these are assets, it will be in companies' interests to protect them. Case in point: the recent spate of 5G/mobile mast arson activity in the UK will almost certainly drive investment into connected devices that can monitor, or even offer improved security for sites such as these. Additionally, new connectivity will be demanded to increase supply chain monitoring to create more efficient product flows, thus avoiding empty shelves, while connectivity might facilitate new compliance regulations within healthcare and sanitation environments.
Automation to Reduce Future Business Disruptions
In 2013, the Oxford Martin School at the University of Oxford published a paper studying activities over the spectrum of employment that could potentially be automated by computers. While this is certainly contentious, given its potential impact on the human workforce, many businesses have already begun to take the road towards automation. For example, outside of the industrial sector, Pizza Hut has experimented with robotic servers, Amazon has opened several grocery stores with no checkout staff, while China has pioneered 'cloud hospital' telemedical services as well as, more recently, robot-serviced field hospitals for coronavirus patients. One of the original premises of the IoT was to introduce a higher level of automation; while the impact of this was limited up until now, the pandemic will certainly lead many enterprises to examine what, and how processes can be automated in order to reduce any future business impact from similar wide-ranging events. Gregory Gundelfinger, CEO of Telna advises that "businesses will need to adapt their business models in order to remain operational and relevant in our rapidly changing society. This means adopting technology that supports automation and reliable connectivity."
Cellular to Become de facto for IoT Connectivity
IoT is currently formed from a vast range of connectivity solutions, which have been chosen on account of deployment cost, range and reliability in the context of a pre-COVID world. As strategic planning takes place for life beyond COVID-19, the element of risk introduced by new, or recurring similar events will shatter the previous status quo. For instance, where Wi-Fi and best-efforts broadband were sufficient where downtime could be solved via physical access to devices, lockdowns give new meaning to the word 'remote'. In turn, reliability, failover and security; key features of cellular connectivity; will only increase in importance. The current trend in module price reduction will only serve to cement the business case from a cost perspective, while emerging 5G networks will address new QoS, throughput and complex use cases from the service side. With eUICC and multi-IMSI SIM cards available to address the global connectivity challenge, rollout complexity is in turn dramatically reduced for companies which will look to deploy connections across borders.
11 Billion Potential Cellular IoT Connections in 2025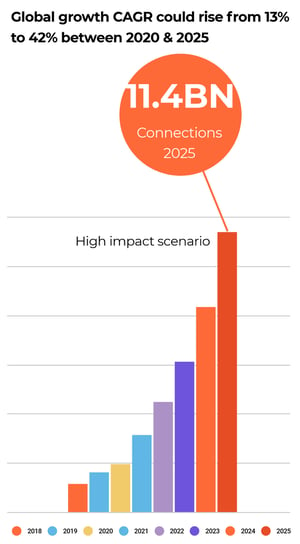 Kaleido Intelligence has modelled the potential cellular IoT impact of COVID-19 within the context of this article, based on modest and high impact scenarios derived from the assumption that the fallout from the coronavirus will drive new investment into cellular IoT. Under the modest scenario, economic recovery and investment appetite is reduced, while businesses take a more conservative approach towards future strategy. The high impact scenario takes account of the removal of such barriers.
Kaleido Intelligence's 2025 baseline projection, developed before the Covid-19 crisis, forecasted 3.7 billion cellular IoT connections globally. Under the modest impact scenario, some 8.6 billion connections are forecasted for 2025, while the high impact scenario will see over 11 billion global cellular IoT connections.
In March 2020, UNCTAD projected a possible $2 trillion income shortfall for 2020 alone. This staggering figure will certainly mean that businesses will be examining future mitigation and continuity strategies with a microscope. Using technology as a lever for this, it is apparent that the time for cellular IoT has arrived.
Ready to learn more?
We were recently joined by thought leaders and industry experts to cover the impact of Covid-19 on future cellular IoT deployments.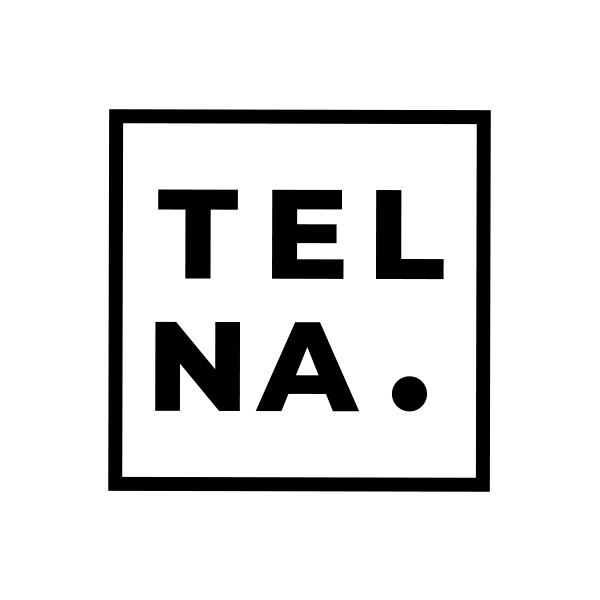 Telna
Telna provides Mobile Network Operators (MNOs), Communication Service Providers (CSPs), and Original Equipment Manufacturers (OEMs) with a fully managed global cellular connectivity platform. Telna has the largest 2G – 5G, LTE-M to over 800 radio network operators – 300 in direct partnerships – in 200 countries. Its global multi-network connectivity platform enables simplified integration to any platform and enables local break-out with localization that utilizes cloud infrastructure. With one integration to Telna's platform, we have enabled millions of devices with multi-network connectivity, enabling innovative solutions in the cloud.