With COVID-19 spreading across the world and impacting supply chains, travel, healthcare and other essential businesses, now is the time for innovation and connectivity. The use of IoT will be essential to enable business continuity and automation.
This two part series is focused on our upcoming webinar on May 14th at 11AM EST, addressing the impact of COVID-19 on cellular IoT. For access to our exclusive white paper, use cases and statistics, register here for our upcoming webinar.
Connectivity in a smarter world
In the past years, IoT has been adopted on a global scale. IoT has been integrated with existing infrastructure, and the results are incredible as cities have become smarter and more efficient.
Sensors and communicative devices are incorporated into transportation systems, streetlights, energy efficient buildings, and more to save time and money across the world.
Smarter agriculture to reduce the use of water and fertilizers has a significant impact on the environment and the food industry.
Waste is simultaneously being cut as food travels through the supply chain through temperature moderation, tracking, and digitization.
IoT has made great strides in the healthcare industry over the past decade. It connects patients with their own health and shares their information with doctors, nurses and caretakers in real time. We are already able to check in with the health of one another without coming into close contact, and as technology in healthcare continues to advance rapidly in response to current situations, this will continue to become more convenient and essential. Our world of technology has been advancing at a steady pace for many years now, allowing us to take advantage of innovations during our most recent economic and health crisis.
The need for IoT
From healthcare and agriculture to government surveillance and data collection, the Internet of Things is enabling and encouraging cohesion when we need it most. As we begin to accept the fact that we must rely on technology to support us in times of crisis, IoT is adopted like never before. People are becoming more accepting of online services and industries are embracing their newly heightened need for connectivity and IoT to increase communication, cooperation and connectivity between different industries and sectors. Smart healthcare is booming, industries are connecting, businesses are adapting, and the demand for internet and connectivity is at an all-time high.
The inevitable surge in internet usage during the COVID-19 lockdown period has left some service providers experiencing an increase in traffic as high as 60%, and streaming services are reducing bandwidth to avoid issues down the road with net neutrality. As organizations work to minimize the need to throttle potential services during specific times of the day (i.e. slowing down Netflix during work hours to maximize the abilities of services such as Slack and Zoom), it can be forecasted that common sites will become more bandwidth-friendly in the near future. This lowered average latency will become the norm, supporting a much better connection for businesses and consumers.


"We are all weathering the same storm, but we are not in the same boat, Cellular IoT will be broadly adopted after this crisis"
- Gregory Gundelfinger
The priorities of businesses will shift as it becomes a universal necessity to ensure reliable and secure IoT and connectivity for all operations and systems. The infrastructure that enables this has been recently adopted around the world, allowing us to stay more connected than ever imagined possible during a pandemic, but our work isn't done. Telna and other connectivity providers are working tirelessly to support businesses however possible to stay safe and connected with minimal human contact, and innovation is everywhere. Part 2 of A new IoT world discusses the changes that the IoT world is expecting to undergo, and the innovation that is occurring across all industries to create a more cohesive and efficient world amidst the pandemic.
Don't forget to register here for our upcoming webinar where I will be joined by thought leaders from KORE, SAP, Arqia (Datora) and Kaleido Intelligence to discuss our most recent white paper on the promising role and future of cellular IoT as a result of COVID-19.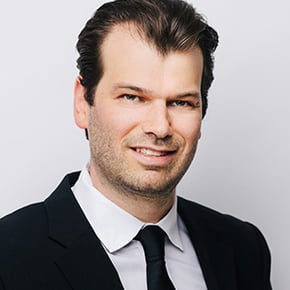 Gregory Gundelfinger
Gregory Gundelfinger is the CEO of Telna. A serial entrepreneur from South Africa and a tech-lover at heart, he led the acquisition of Telna in 2015 and developed himself into a thought leader for telecommunications.